We are always confidential & discreet.

(212) 729-7798
Trust us to Find the Truth
Why choose us
We at RQ Investigations, live by one simple premise – we find the truth. We are tenacious at doing our job right, and with years of expertise and experience at our side, we leave no stone unturned, delivering you peace of mind. RQ Investigations is your best choice for hiring a Private Investigator in Suffolk County, NY.
We specialize in every aspect of investigations, from surveillance, infidelity investigations, background checks, even child abductions to name just a few of our skill sets. We are also trained in using cutting edge technology for a more efficient and effective investigation. So whether you are a big company or just want to make sure that your spouse is telling the truth and staying loyal, rest assured that we will get down to the truth. You will be in good and capable hands with us.
What We Do
Surveillance
Our private investigators are trained in using cutting-edge surveillance technology. Perfect for getting the photos, videos, and audio you need that are critical in building your case. We will also provide you with excellent documentation and expert testimony should you need it.
Background Checks
Ensure the safety of your home or organization. From potential employees to household helps. If you need a thorough background check, look no further. We can help you ease your mind by providing you with as much history that you need.
Infidelity
Discover your partner's activities. We at RQ Investigations can help you find out if your spouse or partner is cheating. We provide discreet investigations and protect the confidentiality of our clients. We will get you the evidence that you need for your peace of mind.
Insurance Investigations
Are you a victim of insurance fraud? Or is your company looking to check a suspicious claim? Do not worry, we can help. Our private detectives are well trained and equipped to investigate your insurance fraud matter. We will get to the bottom of this.
About RQ Investigations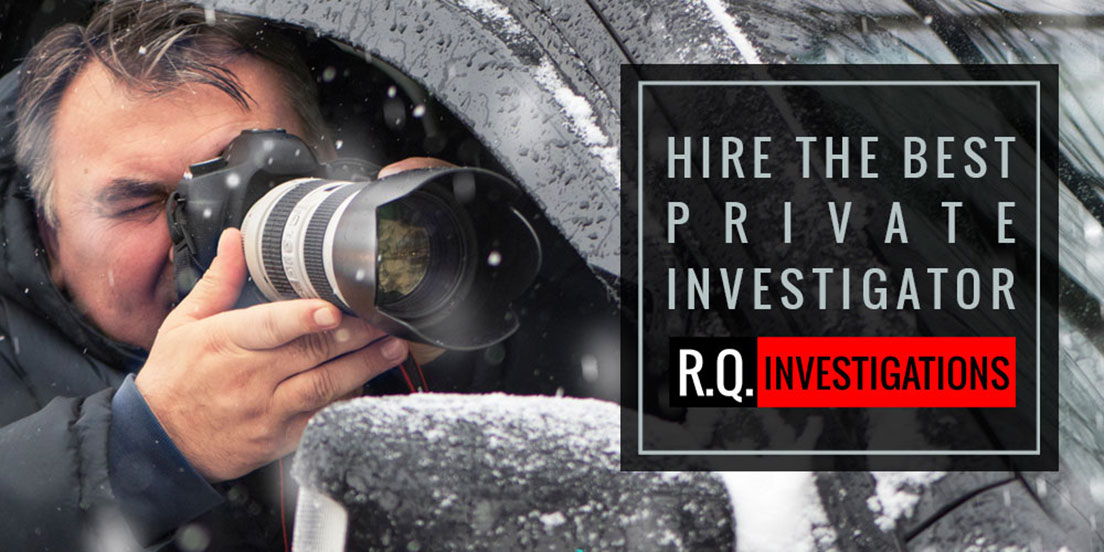 Suffolk County Private Investigators R.Q. Investigations is a multi-lingual, ethnically diverse, Private Investigation firm in Suffolk County. We are available 24×7 all round the year, including holidays. Our firm can offer you all forms of Electronic Video Surveillance, Claims Investigations, Attorney Services and Private Investigations. We are licensed as well as bonded by New York State Department of State, Division of Licensing Services (# 11000119347) and the NJ State Police (# 8275). Our investigators are strategically placed in key geographic locations in each State in order to ensure adequate coverage for your case, in a cost efficient manner.
Our supervision team and field staffs have years of experience in the Private Investigation, insurance and legal industries. We are fluent in English and Spanish languages and have associates who can speak Creole, Russian and Italian.
Our investigators use the most modern electronic equipment and undercover techniques to ensure that you receive the best possible results, no matter how complex the case is. We also have a professional research team that can find crucial information that crack your case or find those concealed assets. All of our Private Investigations are conducted in accordance with State and Federal guidelines. We also carry an Errors and Omission Policy of $1,000,000.00 to provide our clients with adequate Liability coverage and confidence that they will not be exposed during the course of our relationship.
R.Q. Investigations has a team of investigators and licensed Independent Insurance Adjusters that can handle Claims Investigation services and surveillance in the State of New York, New Jersey and Connecticut. Our staff investigators consist of former NYPD officers, Members of the U.S. Armed Forces, Federal Agents and Licensed Private Investigators; not just novices, as many other firms employ. We are serious about our work and hire only dedicated investigators.
When you need answers, you need us. Take a break from your suspicions and call us now!
Services Area